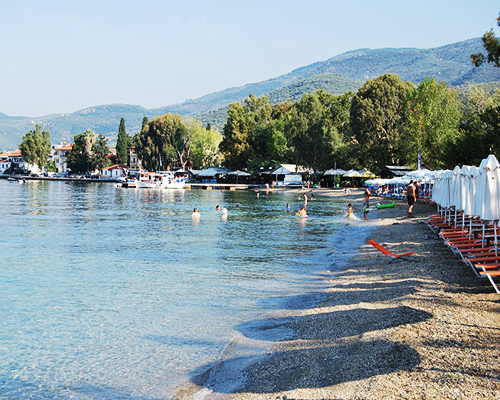 Kala Nera
The beach at the tourist resort of Kala Nera is one of the most famous and has been awarded the Blue Flag. It is less than 5km from Milies, within the Paegasitic Gulf. The waters are very clean and you will enjoy cool moments in the summer sun. Along the coastal road covered with plane trees and eucalyptus. There are many cafes and bars that can serve you as you enjoy your swim and taverns that will surely trigger your appetite.
---
At 9.8 km from Milies, towards the Aegean Sea, you will find the beach of Lampinou, the beautiful bay of the homonymous village. The monastery of Panagia Labidonas is also built near the coast. According to tradition, Panagia Labidona led a captain to a safe harbor where he built the monastery. Enjoy the sea on a quiet beach in the blue waters of the Aegean Sea. For hikers there is an engraved path from Milies to Lampinou, with an average of 3 hours walking distance.
---
The village of Kalamaki or Propan is located in the northeastern Pelion, 15 minutes from Milies. The name Kalamaki comes from the homonymous beautiful beach, which is 2 km from the center of the village, in which there is a spring that flows crystal clear water between the rocks. The inhabitants used to place a straw (meaning kalamaki) at the entrance of the spring to drink water. There, is the place where the traditional Stone of Pelion -called Propan- is mined, from which, among other things, the monasteries of Mount Athos and the cobbled streets of Pelion have been built.